Trail Days - Volunteer for the day for a Free Annual Membership!
Work days planned --- TBD
To sign up, please email Cort Hansen or call him during business hours at 603-356-3042. Cort has requested that anyone interested in volunteering 7 - 8 hours of work in exchange for a season pass contact him directly so that he can discuss what needs to be done and what equipment may be needed. Plan to bring lunch and water, warm clothes, work gloves, and be prepared for a day in the woods. Work will begin at 8 am and continue until about 4:30 each day.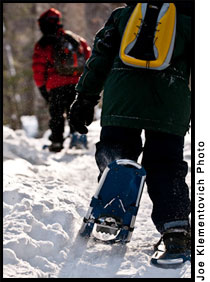 The numbers of volunteers will be limited, so this is a first come/first serve basis. We thank everyone interested in helping with seasonal preparations.

Weekly Guided Snowshoe Walks
Join us any Saturday afternoon at 1:00 pm for a guided snowshoe walk along the East Branch and Saco rivers.

This is a great way to try this winter activity which is gaining in popularity with each season. The tour will last between 1.5 - 2 hours covering a distance of less than 2 miles at an easy pace suitable for all ages and abilities. Call the Touring Center at 603-356-9920 for reservations and plan to meet there soon after 12:30 pm.